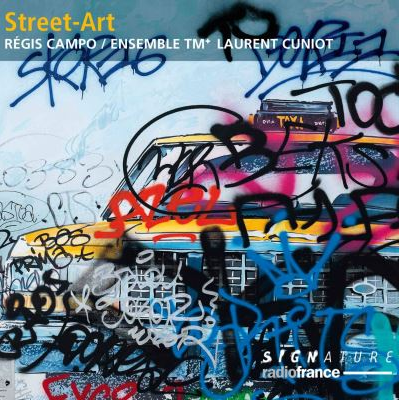 Street-Art – I attended its creation by the same performers, a little sounded and stunned. It is a piece for 12 instruments (2015-2017: flute, clarinet, trumpet, piano and keyboard, two percussion, two violins, viola, cello and double bass), a little longer than its "elder brother" Pop- Art, which dates from 2002, but a constant inventiveness that brings tension and relaxation to what is often lacking to works of a repetitive nature. From the primitive chaos of the work to its wild conclusion, we are taken along this kind of urban vortex.
Régis Campo, in the book I dedicated to him :
"In Street-Art, I reuse this process on a larger scale and fifteen years later [than Pop-Art] I play with this bad genre, but I also join the beastly beats of techno music bands like Daft Punk. This work goes towards this idea of the bad sound, the garish color, the aerosols projected on the walls.Many words close to Street-Art jostled in my brain during the composition of this work: mosaic, trico-tag, calligraphy and gesture magic, graffiti and music tags, fat cap, throw-up, block-letters, hip-hop culture, New York, weed, pixel, video games, several artists like Banksy, Invader, JR.It takes a lot of effort and sophistication to find the soul of a visceral music, rudimentary and binary.This music fascinates me and today's creative music must vampirise and transcend like a Stravinsky fantasy on the poor form of ragtime."
Then Sometimes in the heart on a poem by Emily Dickinson for mezzo and piano: like a popular song with a heady melody.
Oh, Sweet Kisses for clarinet alone is like a great voluble melody where contemporary play modes fit perfectly into the instrumentalist's discourse.
Rivi simplicitate extract from Myterium sumplicitatis – 5 easy pieces for piano (2013) : a piece of deceptive simplicity, melancholic, somewhat like a dreamed Satie.
Steamy Punk(2017) for flute alone has become a classic for the instrument, sometimes serving as a competition piece.
Pop-Art for flute, clarinet, violin, viola, cello and piano is a work that has been played many many times, sometimes without a conductor. I had attended the recording and found the tempo a little retained, but the musicians of the TM + ensemble are excellent and give the piece the definitive status of a classic of our time.
Les Morgensten Lieder (2015) are like a quintessence of Regis' genius for voice: purity of the vocal line with a throbbing accompaniment at the piano, without a single useless note. Crystal voice of the mezzo Sylvia Vadimova.
Érotique rotative for piano (2015): the pianist whistles, sings, even nicks, so much so that one has the impression of having to deal with two distinct characters. superb pianist Julien Le Pape.
Finally Une solitude de l'espace (for seven musicians after The Life & Soul of his Imagined Landscape – 2017): we are transported into a dreamlike world, far from the bustle of Street-Art.
Congratulations to the musicians of TM+ conducted by Laurent Cuniot. The CD will be released on June 28, it can pre-ordered here.
While waiting for it, a recent masterpiece of Régis Campo, Dancefloor with pulsing for thérémine & orchestra: