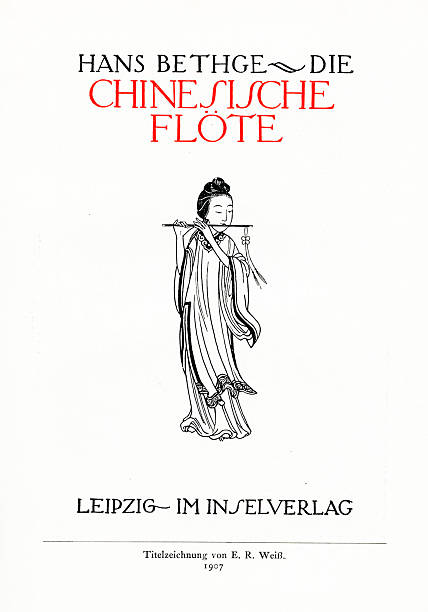 I finish this survey with der Abschied: Rafael Kubelik 2, Eugen Jochum, Otto Klemperer 2, Rosbaud; Bruno Walter Vienna, Bernard Haitink, Leonard Bernstein 1, Kurt Sanderling, Michael Gelen & Jonathan Nott.
6 – Farewell to all
(See analysis p. 87 here)
The sun departs behind the mountains.
In all the valleys the evening descends
with its shadow, full cooling.
O look! Like a silver boat sails
the moon in the watery blue heaven.
I sense the fine breeze stirring
behind the dark pines.
The brook sings out clear through the darkness.
The flowers pale in the twilight.
The earth breathes, in full rest and sleep.
All longing now becomes a dream.
Weary men traipse homeward
to sleep; forgotten happiness
and youth to rediscover.
The birds roost silent in their branches.
The world falls asleep.
It blows coolly in the shadows of my pines.
I stand here and wait for my friend;
I wait to bid him a last farewell.
I yearn, my friend, at your side
to enjoy the beauty of this evening.
Where are you? You leave me long alone!
I walk up and down with my lute
on paths swelling with soft grass.
O beauty! O eternal loving-and-life-bedrunken world!
He dismounted and handed him the drink
of Farewells. He asked him where
he would go and why must it be.
He spoke, his voice was quiet. Ah my friend,
Fortune was not kind to me in this world!
Where do I go? I go, I wander in the mountains.
I seek peace for my lonely heart.
I wander homeward, to my abode!
I'll never wander far.
Still is my heart, awaiting its hour.
The dear earth everywhere blossoms in spring and grows green
anew! Everywhere and forever blue is the horizon!
Forever … Forever …
---
There are 6 parts
1 – mm. 1-54
2 – mm. 55-163
3 – mm. 164-290
4 – mm. 291-351 (instrumental)
5 – mm. 352-407
6 – m. 408-560
Bruno Walter (1976-1962) – Wiener Philharmoniker – Kathleen Ferrier (1912-1953) – Julius Patzak (1898-1974) – 1952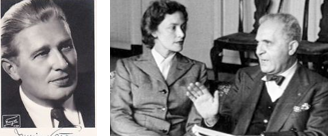 This is probably one of the most famous movements in the recording history. I wondered if it was still moving after 66 years … and yes, it is: a marvel of balance, construction, fluidity, beautifully played by the orchestra, including the famous Viennese oboe. Kathleen Ferrier is marvelous, the richness of her tone hiding her English accent. 9.5
Hans Rosbaud (1895-1962) – SWR Sinfonieorchester Baden-Baden – Grace Hoffman (1925-2008) – Helmut Melchert (1910-1991) – 1960



Indications are even better respected than with Wallter, with less remarkable instrumentalists, rather placid conducting. Good singing from Hoffman, but rather cold. 7.5
Eugen Jochum (1902-1987) – Royal Concertgebouw Orchestra – Nan Merriman (1920-2012) – Ernst Haefliger (1919-2007) – 1963



Superb animation at the beginning, voice sounds curiously old on some notes; with a not really pleasant vibrato. But the orchestra is superb all along and there is a lot of expression. 8,5
Otto Klemperer (1885-1973) – Philharmonia Orchestra – Christa Ludwig (1928*) – Fritz Wunderlich (1930-1966) – 1966



Ludwig is a little far away, but with a big volume, great style. It is the slowest heard for the moment – maybe too much in the fourth part, but there is always enough animation to let the music flow. 8.5
Leonard Bernstein (1918-1990) – Wiener Philharmoniker – James King (1925-2005) – Dietrich Fischer-Dieskau (1925-2012) – 1967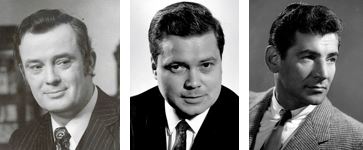 Slower, same tones from the orchestra as with Walter, but better recorded. Despite all his quality – and minor defaults (notes are too related) – I think it lacks of poetry but surely not of presence. Superb conducting. 8.5
Rafael Kubelik (1914-1996) – Symphonieorchester des Bayerischen Rundfunks – Janet Baker (1933*) – Waldemar Kmentt (1929-2015) – 1970



A miracle, the best balance singer / orchestra, every single bar is filled with poetry – listen to the interlude, every part match so well with the others, and so 'Mahlerian'. So expressive singing from Baker. 9.5 (and the best orchestra for Mahler with the Concertgebouw and Vienna).
Bernard Haitink (1929*) – Royal Concertgebouw Orchestra – Janet Baker (1933*) – James King (1925-2005) – 1975



A little more vibrato here, very good conducting as usual with Haitink, you just miss the magic of Kubelik, lacking of some accents. 8
Kurt Sanderling (1912-2011) – Berlin Symphony Orchestra – Birgit Finnila (1931*) – Peter Schreier (1935*) – 1985



A rather global rendering at the orchestra, lacking of accents too, but well animated. I love this voice. Altogether a very taking version. 8.5
Michael Gielen (1927*) – SWR Sinfonieorchester Baden-Baden – Cornelia Kallisch (1956*) – Siegfried Jerusalem (1940*) – 2011


Refined conducting, chamber like, the voice sounds a little small and does not have a great impact. 8
Jonathan Nott (1962*) – Wiener Philharmoniker – Jonas Kaufmann (1969*) – 2016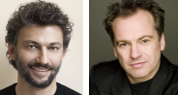 I just wondered if, on the contrary, a recording with 6 different singers could be envisaged… Wonderfully detailed orchestra, splendidly recorded (the best by far in this selection). Sensitive singing, beautiful voice and great presence. 8.5
Finally, I would recommend Rafael Kubelik & Bruno Walter, but Eugen Jochum, Otto Klemperer, Leonard Bernstein, Kurt Sanderling & Jonathan Nott are good choices too.
Maybe the best composite version would be:
I – Jochum
II – Klemperer
III – Klemperer or Kubelik
IV – Walter
V – Kubelik
VI – Walter or Kubelik
A new version just appeared with Anna Larsson, Stuart Skelton, Düsseldorf symphoniker and Adam Fischer (April 2019). Good singing from Skelton (who recorded it already with Tilson-Thomas, Ashkenazy and Rattle). First appearance of Anna Larsson, with a tendency to slow down, correct orchestra, Fischer allows nice atmospheres but it lacks of some drive and is sometimes literal. 7
Other recent versions:
Zubin Mehta – Münchner Philharmoniker – 2017 – live
Vladimir Jurowski – Rundfunk-Sinfonieorchester Berlin – 2018 – live
Ivan Fischer – Budapest Festival Orchestra – 2020