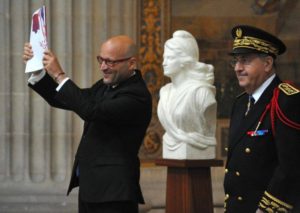 June 14 2018 was a special day for the conductor Enrique Mazzola : he jst received in the morning the French nationality at the Panthéon by the prefect: " j'étais très ému de faire partie des six personnes qui ont pu la recevoir des mains du préfet, d'autant que dans son discours il fit le parallèle entre deux naturalisés : l'allemand Offenbach et moi, l'italien, ou encore la musique des Gardiens de la paix jouer sa Barcarolle ". (Cf. interview)
Enfance – Études
TV : J'ai lu que vos parents étaient musiciens ?
EM : My natural parents [EM was born in Spain] and my adoptive parents were musicians. My first family came from Liceo de Barcelona and my Italian father from La Scala in Milan (he was singing conductor there). I started at the age of seven, playing the violin, at the age of nine playing the piano, at the age of fourteen studying composition, and finally conducting at the age of eighteen / nineteen. In fact, I was more successful in the composition class than in the conductor class – people thought I would become a composer and eventually conduct my scores. But from childhood I was directed towards conducting: I studied violin, piano and composition in preparation for conducting. In fact, at the Giuseppe Verdi Conservatory in Milan, one had to have done seven years of composition courses to gain access to the conducting class.
My grandmother was a harpist at Liceo in Barcelona; she gave me orchestral scores when I was seven years old: Romeo and Juliet or Francesca da Rimini by Tchaikovsky and Richard Strauss's symphonic poems, and she said to me, 'I'm sure you'll be a great conductor' . She put Karajan's vinyl records, gave me the score, a little stick and said to me: conduct! She sometimes corrected my actions; she supported me a lot in, say, the birth of the idea of ​​becoming a conductor. Maybe without her, I would have done something else in my life.
About the same time, I started singing in the La Scala Masters; when I was conducted by Claudio Abbado – I had no idea of ​​his status as a great international conductor at the time … – I said to myself: I want to do the same thing as this gentleman!
My studies of piano, violin and composition help me a lot in my work as an orchestra conductor: the piano allows to communicate and work with singers or to indicate details that we wish the musicians: the piano is a summary in a way; the violin, because we can work the string bowings in detail: we can thus settle the technical aspects of nearly fifty musicians: half of the orchestra; finally, the composition makes it possible to understand why a composer wrote such or such a piece as well as its musical structure.
My teacher was Azio Corghi during my last years of study of composition. We had to prepare a play every two weeks, that I had to play piano in front of my nineteen classmates. He said to me 'Enrique, you always have the musical gesture', probably because I grew up in the opera, in the dramaturgy: even in pieces for piano or small ensemble, I always had a story to tell in somehow. I ended up winning the first prize for composition. Azio Corghi and the Director of the Conservatory, Marcello Abbado – Claudio's brother – were convinced that I was going to embrace the career of composer.
Beginnings
I started to conduct professionally at the age of twenty-five, with the chamber orchestra i Pomeriggi Musicali,the equivalent of the Paris Chamber Orchestra, which is so called because at the beginning, they gave their concerts in the afternoon (Pommeriggi). But my first seven years of career were not very developed because either in symphonic or opera, I conducted only in Italy. It was not until the early 2000s that I started an international career. My agent at the time said to me: but you have very beautiful fees in Naples, Palermo, Catan, Rome, etc. why go and earn less abroad? So, I changed of agent and started at the Bordeaux Opera House or Stuttgart. René Koering then noticed me and I participated in the Festival of Radio France in Montpellier, then it led me to lead the Orchestre National d'Île-de-France (ONDIF), etc.
Repertoire
TV : I consulted your website, your repertoire is impressive!
EM : Do you really think so? The other day I heard that the Italian conductor, older than me, Donato Renzetti (1950 *), had 80 operas in his repertoire; I had fun counting, I'm at 70! In fact my career has experienced a sharp acceleration over the past ten years.
TV : How many concerts do you give yearly, all genres?
EM : Hard to say: when I manage at Glyndebourne, it's already sixteen performances; at the Bregenz Festival, fifteen, each program at ONDIF is six or seven concerts! Let's say about sixty a year. I decipher very quickly: if you tell me that I must lead tomorrow afternoon the first suite of Daphnis – I have directed only the second so far – I will arrive ready to conduct. I recently gave Maria Stuarda at the Zurich Opera, I had to take three days to decipher it, it is true that I am used to this repertoire, I know the style and formulas. I memorize a little more slowly; I often conduct the symphonic music by heart, but at the opera the conductor should always, in my opinion, conduct with the score: he can not endanger the work of so many actors because of an error. It's the same thing in a concerto as a respect for the soloist, who often plays by heart.
Actualité
I have just been appointed First Guest Conductor for four seasons at the Deutsche Oper de Berlin. I have already given ther the Barber of Seville and Der fliegende Holländer, an opera by Pierre-Louis Dietsch, Falstaff and a Meyerbeer cycle, including Le Prophète directed by Olivier Py.
I will give in the fall Les contes d'Hoffmann and previously a broadcast gala concert for the benefit of AIDS research; I am not a big fan of gala concerts, but seeing the cause and the fact that I am their new guest conductor, I gladly agreed. I am labelled in Berlin as a specialist in French opera, so I'm going to conduct a lot – while in the Met or New York, I'm considered a bel canto specialist. Since I am in France – and thus become French: – I have broadened my repertoire and I am no longer confined to an Italian symphonic conductor specializing in bel canto. Last year, I made my debut with the Orchester de San Paulo, with a program Ravel and Debussy.
TV : Let us admit that I am almighty and make two propositions to you: either you direct the Vienna Opera, but do not give any symphonic concerteither you are the principal conductor of the Berlin Philharmonic, but you don't conduct operas any more, what do you choose?
EM :The second obviously, but it depends on the opera house: Vienna is a repertoire opera house, like the Staatsoper Berlin or the Metropolitan of New York: the creations are beautifully prepared, but the repertoire is given without repetition and does not reach an excellent level. Other opera houses like the Lyric Opera in Chicago are 'Italian': for example, for one month only I puritani is played, the orchestra plays only that, from the first rehearsal to the last performance . So for your question, we should choose a production opera house (stagione) and not a repertoire one. It happened to me to conduct L'elisir d'amore to the Met with a single rehearsal, next year, in Vienna, Don Pasquale without repetition; we just have the opportunity to coordinate everything, but not to give an artistic impression. Conversely, the Glyndebourne Festival gives me six weeks of rehearsals with the London Philharmonic Orchestra to set up the program of my choice … So if your alternative had been between Glyndebourne and Berlin, I would start thinking!
I am not a repertoire conductor, but of production: I like to produce, to create a show; I know excellent colleagues who practice the repertoire and are happy to give beautiful performances; for me it's not enough, I need to create, to put my signature. If you look at my calendar, I mostly have new productions; we meet with the stage director one or two years ago, we agree on the concept of editing, possible cuts, style, modern or more traditional. To raise the stick, to get ones fees and to go home, it does not interest me, I need, if not to reach, but at least to aim for excellence.
ONDIF (Orchestre National d'Île-de-France)
I am going to quit you and join La Cenerentola rehearsal with the ONDIF. My story in opera in Paris is linked to the Théâtre des Champs-Elysées, and I'm faithful to it. It all began under Dominique Meyer with Fasltaff.
I am very happy of the partnership between the ONDIF and the Philharmonie of Paris. The Orchestre national d'Île-de-France is maybe the on which took most part in the project, since the orchestra is used to play in the suburbs ; chen we play at the Philharmonie, 50% of the public comes from the suburbs.
TV : I enjoyed the pedagogical and "relax" side of your concerts.
EM :Especially with contemporary music: for the last concert I explained why juxtaposing Memoriale de Boulez and Verdi's Requiem, the public likes to be explaines the program. We have to get off the podium, not to make populism, but to share with the public. The biggest prize the musician can receive is applause. Ten years ago I started to stop playing works as a personal challenge, but to interest the audience, communicate with. During my last concert with the London Philharmonic orchestra, I told the General manager Tim Walker that I wanted to take the microphone a few minutes before the concert (extracts from Tosca and Respighi); he says no, it's not done in London, but finally five minutes before he gave me his consent. The audience was initially petrified, taking me crazy, then I explained Rome's bells in Tosca, the bells in the Pines of Rome and it was finally a success.
Musique contemporaine
I find that it is not fair, as an interpreter, to decide which style of music should be known to the public. It took me a lot of thought: I had followed the teaching of Azio Corghi, very structuralist and twelve-tone style; but for ten years, I have discovered composers who, through a little more tonal music, are able to transmit beautiful emotions. I laughed a lot when I realized that in France you were still crystallized on the chapels; it is necessary to make known all the styles, diversity that I look for in ONDIF's commands. There is good and bad music in all styles.
We have already edited three CDs with ONDIF and three more are planned, but I can not talk about it for now. During my mandate, I certainly want to ensure his mission in Île-de-France, it is the base, but also sought to have it recognized as a very active French orchestra.
Technique
I lead "on the bar" especially because I manage a lot of Italian repertoire. It is sometimes difficult to make it accepted by German orchestras for example: when I conducted Rossini in Berlin, I said to them: Ladies and gentlemen, please write on the first page of the score: Enrique Mazzola lead with the stick.
Pantheon
The answer is immediate: Kleiber, Abbado. Kleiber's way of smiling has always stayed with me, even in the Sanctus of Verdi's Requiem.
Discographie
CD / DVD